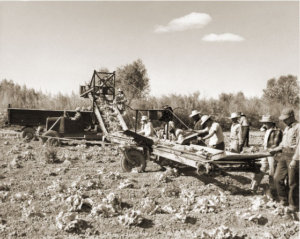 As the picture indicates, harvesting vegetables was certainly done differently in December 1947.   We are grateful that five local shippers had the foresight to establish the Yuma Vegetable Shippers Association that same year.
According to the Articles of Incorporation, these five visionaries – Ted McDaniel, Floyd Newcomer, J.L. Coyer, H.P. Fites and Wilton Woods – established the Association "to provide for a discussion of the problems of the vegetable and melon industry" and "to cultivate and create a spirit of cooperation among the members of the Corporation."
As the Yuma vegetable industry expanded in the 1980s, the Association recognized the impact government actions have on production and YFVA began focusing more on legislative and regulatory affairs.
Over the past three decades, YFVA has been involved with many achievements. 
1989-1990 – Took a lead role creating the Arizona Department of Agriculture
1992-1993 – Developed Marketing Order and Marketing Agreement legislation and streamlined Citrus, Fruit and Vegetable Standardization
1992-1995 – Recognized nationally as a leader on Pesticide Worker Safety issues
2002 – Became the Yuma Fresh Vegetable Association in recognition of the organization's expanded membership
2007 – Headed efforts to establish the Arizona Leafy Green Shippers Marketing Agreement to address food safety concerns
2007 – Initiated Southwest Ag Summit